We are delighted to announce that Verisk Maplecroft has been named Best Specialist ESG Ratings Provider at the ESG Investing Awards held in London on 23 February at the Dilly Hotel.
The award is in recognition for our Sovereign ESG Ratings, which provide investors with the most comprehensive picture available of ESG risks and opportunities across the entire current and potential sovereign issuer universe.
The ESG Investing Awards 2023 are the only awards devoted to assessing and evaluating the best companies involved in all areas of ESG investing across the globe. They are designed exclusively for banks, investment managers, research houses, ratings agencies, index and ETF providers and exchanges. The awards were assessed by a panel of independent judges comprising financial market professionals, academics and independent experts.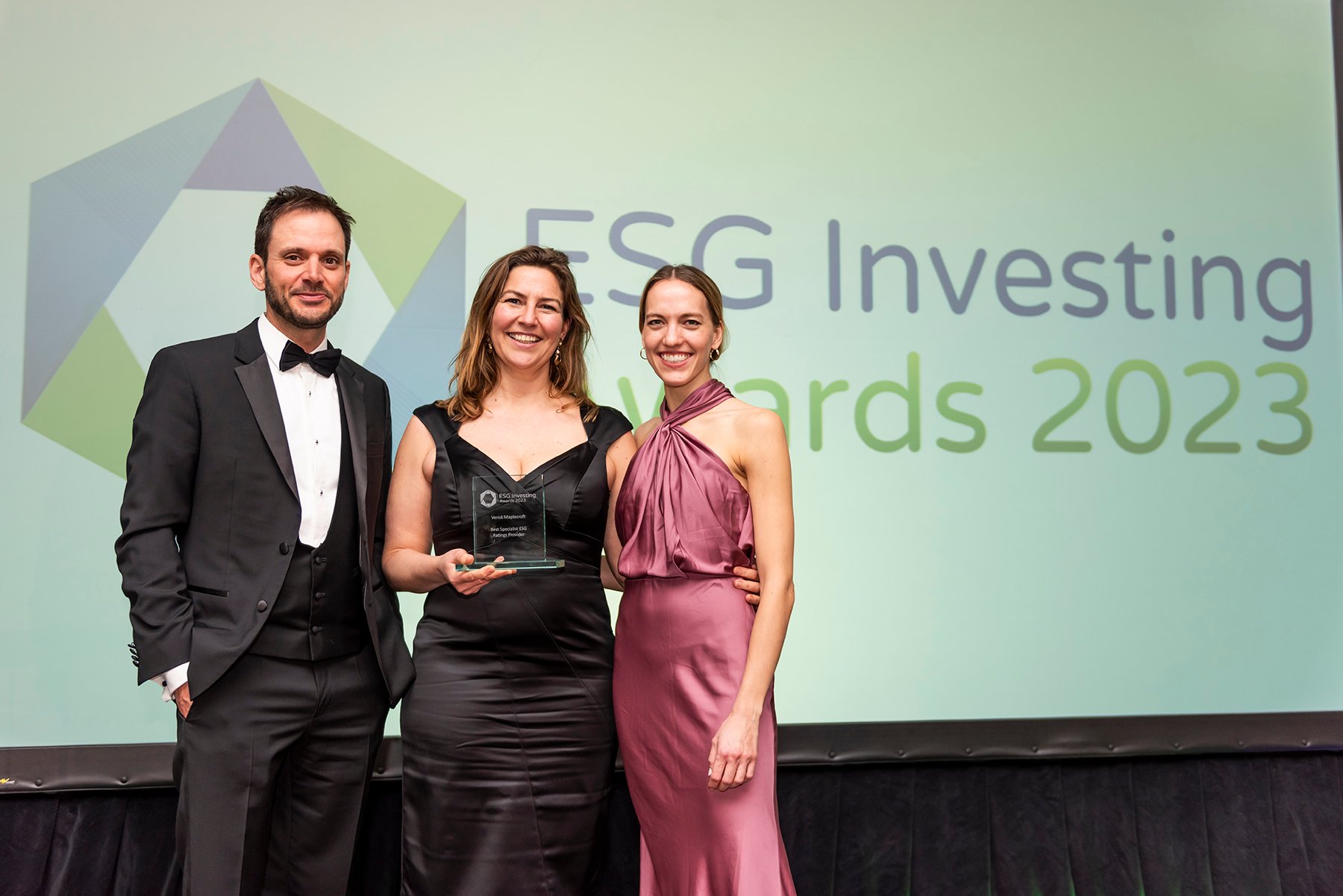 We were also nominated as a finalist in the Best Specialist ESG Research category for our analysis of the sovereign ESG landscape that showcased research findings from our Sovereign ESG Ratings. This included demonstrating that ESG issues, including human rights, are highly material for sovereign debt on multiple levels.
"This award is testament to the fantastic work of our sustainable finance team and their dedication to helping sovereign ESG investors use geospatial data to develop a deep-set understanding of critical ESG issues that result in tangible and sustainable outcomes in government bond markets," says Verisk Maplecroft President, Matt Moshiri. "Over the coming months we will continue to refine, innovate and release data solutions to ESG investors across sovereign debt and other asset classes, including equities, real estate and commodities – watch this space."
Verisk Maplecroft's award-winning Sovereign ESG Ratings feature six years of quarterly historical data, draw on approximately 350 of our 1200+ indicators across 37 separate issues and nine ESG dimensions. Their novel methodology, based on cluster analysis, captures the non-linear complexity of the sovereign ESG world more effectively than traditional weighted averages.
The data within the Ratings is drawn exclusively from our vast array of unstructured, geospatial, expert-derived and structured sources that go far beyond the lagging datasets that have historically been used to track sovereign ESG issues. This means both the underlying data and the Ratings themselves are current, dynamic and fully independent of government influence.