Five trends that will cut global emissions in 2021
by
Will Nichols and
Amy Bowe and
James Whiteside and
Kristina Beadle,
Climate change really hit the top of the agenda for commodities in 2020. Not even the Coronavirus-driven collapse in demand could stall the increasing global focus on tackling carbon emissions. If anything, the pandemic may have given energy and metals producers a glimpse of the challenges that lie ahead in a low carbon future. It certainly highlighted the need for resilient business models and economies.
Around the world, companies and governments have shifted their net zero commitments up a gear. Ambitious targets have been set. Carbon pricing has accelerated. And renewables have grown in importance in many oil and gas companies' portfolios, and as a power source for mining.
How will this momentum build in 2021? Which trends will gain the most traction and have the greatest impact on emissions? We set out predictions in Emissions: 5 things to look for in 2021. View the original piece led by our sister company, Wood Mackenzie, to download the full report or read below for an introduction.
1. COP26 will focus attention on climate commitments
The 2015 Paris Agreement required signatories to commit to strengthened national climate targets (Nationally Determined Contributions (NDCs) every five years. As a result, significant emitters including the UK, EU and Canada made pledges to hit net zero emissions by mid-century, and will roll out their policies in 2021.
However, with less than half of signatories having submitted the required NDCs by the end of 2020, all eyes will now be on those still to declare their targets. Scrutiny will intensify ahead of the 26th UN Climate Change Conference of the Parties (COP26), scheduled to be held in Glasgow in November.
2. Technological innovation will help cut extraction emissions
Increased renewable energy use will help to reduce carbon emissions in metals production. Additionally, we expect to see small steps made in replacing diesel-powered mining truck fleets with electric alternatives.
In contrast, technology developments to reduce downstream emissions in metals production will remain at the pilot scale. Downstream producers will focus instead on operational efficiencies and increased use of scrap to lower emissions.
Meanwhile, oil and gas producers will look to address methane leakage and reducing venting and flaring, both short-term wins with a potentially significant positive impact.
3. Reporting requirements will ramp up
The Task Force for Climate-Related Financial Disclosures (TCFD), formed at COP21, provides recommendations for reporting to stakeholders on a company's climate-related risk. Since their publication in 2017 nearly 1,500 organisations have signed up to the TCFD guidelines voluntarily, with many natural resources companies among the vanguards. In 2021 the UK will become the first country to mandate climate-related disclosure for all listed companies (as well as significant domestically registered private companies).
4. Green credentials will become a selling point for commodities
Last year 'emissions intensity' emerged as a competitive differentiator for both LNG and metals products. We expect this trend towards a 'green premium' to spread to other commodities in 2021.
The EU's expected carbon border tax, along with similar measures before Congress in the US, are likely to favour low-emissions products. If passed, these regulations could push other economies into implementing similar mechanisms. This will boost the market for green commodities.
5. Energy and mining companies will divest and diversify to manage emissions risk
Oil and gas majors and diversified miners alike will continue adjusting their portfolios in the pursuit of climate targets. Companies will step up efforts to reduce Scope 1 emissions by divesting their most emissions-intensive assets – in particular, the exodus from thermal coal will continue. At the same time, Scope 3 intensity is likely to come into greater focus as more businesses set carbon neutrality targets.
We expect sellers to replace divested revenue with low-carbon investments, such as renewables, hydrogen and carbon capture, utilisation and storage (CCUS) businesses and projects. As mines increase their sensitivity to power source, we could also see mining companies take ownership of renewable generation.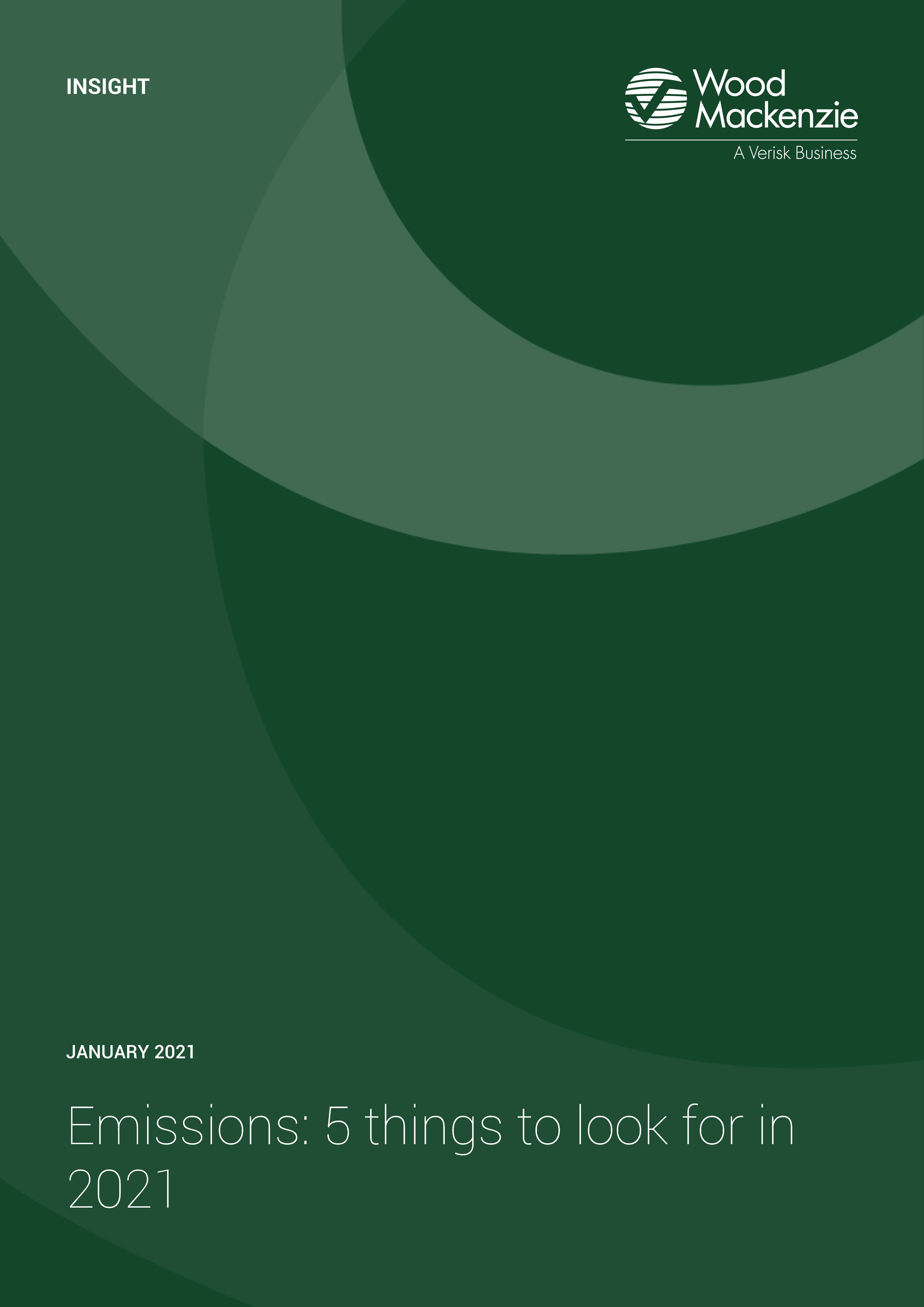 Emissions: 5 things to look for in 2021
This insight first appeared as part of Wood Mackenzie's 2021 Outlook. Download the full report here.